---
It's always a good idea to keep your home clean. However, during a public health crisis, we can't overemphasize how important it is to not only clean your home—but to clean it correctly.
In the U.S. alone, COVID-19 has infected millions of people and killed hundreds of thousands. Staying at home, maintaining a distance of at least 6 feet, wearing a mask, and frequently washing your hands are the top four ways to reduce your risk of exposure. However, a less common (but still viable) means of infection is coming into contact with contaminated surfaces. This is why cleaning your home could be the fifth line of defense against COVID-19. Keep reading to discover 10 tips for effectively cleaning your home during this challenging time.
Cleaning vs. Sanitizing vs. Disinfecting
Often, cleaning, sanitizing, and disinfecting are terms people use interchangeably. However, there is a difference between the three. "Cleaning is the physical removal of visible soils and organic matter," explains Dr. Kelly Reynolds, professor and department chair of Community, Environment & Policy; and director of the Environment, Exposure Science and Risk Assessment Center at the University of Arizona.
On the other hand, Reynolds, who is also a Clorox partner, explains that sanitization is a process used to kill 99.99 percent of bacteria not visible to the naked eye within a five minute contact time. "Disinfection is the process of killing at least 99.99 percent of bacteria and other microbes, such as viruses."
You Don't Need to Disinfect Everything
Although COVID-19 is a virus, Reynolds says you don't have to disinfect everything. "Use cleaners on visibility soiled surfaces to remove dirt, debris, grease, or bodily fluids," she says. "Use sanitizers in laundry washes and apply sanitizers on soft/porous surfaces such as carpets and fabric upholstery." When would you use disinfectants? "Target bathroom and kitchen surfaces for disinfectant use, as well as high-touch surfaces like light switches, door knobs, fridge and faucet handles, and remotes."
How Often You Should Clean and Disinfect
How frequently you should clean and disinfect depends on your family's patterns, health status, and other factors, Reynolds says. But she does have some general guidelines. "Disinfect kitchen surfaces every time before preparing food and after surfaces contact high-risk food sources like raw chicken or ground beef." In addition, she recommends disinfecting bathrooms and high-touch surfaces on a weekly basis.
"If someone is known to be ill in your home, especially if they've recently tested positive for COVID-19, the frequency of disinfection should be increased to at least daily," Reynolds recommends. "In these situations, always consult your healthcare provider or CDC guidelines for additional precautions to help enhance the health and safety of the entire household."
How to Disinfect
There are plenty of disinfectant sprays and wipes that you can use. However, Reynolds says you can also use a mixture of bleach and water to disinfect any type of bleach-safe, hard, non-porous surface such as plastic, synthetic materials such as nylon and vinyl, stainless steel, glass, glazed porcelain, linoleum, latex, enamel, painted or finished wood, silicone, and also sealed brick, patio stone, stucco, and granite. She recommends the following steps:
1. Pre-wash the surface. 2. Combine 1/3 cup disinfecting bleach with 1 gallon of water. 3. Allow the solution to contact the surface for at least six minutes. 4. After six minutes, rinse well with clean water and let surface air dry.
Dealing with Sick Family Members
If you have a sick family member, Reynolds says you need to pay special attention to how you clean. "This individual can release germs that readily settle onto surfaces, linens, and clothing as well as the hands of those who are ill." As much as possible, she says it's important to isolate sick family members from others. "Also, frequently-disinfect surrounding surfaces of sick individuals, sanitize associated linens and clothing, and practice good hygiene."
Don't Forget About Bacteria
COVID-19 is a virus, but that doesn't mean you should neglect bacteria, especially now that your family is spending more time together at home. "Generally, bacteria can live for days to weeks and even months on hard, non-porous surfaces, but generally require large numbers to infect people," Reynolds says. "That is why it is important to maintain routine cleaning and disinfecting practices to minimize spread." And she recommends using products specifically labeled as disinfectants as the most effective way to eliminate bacteria from hard surfaces.
Don't Ruin Your Electronics
As you're disinfecting high-touch areas in your home, use special care with electronics. "Don't forget about your laptops, cell phones and tablets; for these, use 70 percent or higher alcohol-based disinfecting wipes," advises Diana Rodriguez-Zaba, president of ServiceMaster Restoration by Zaba. "This is important to truly eliminate germs and virus particles," she says.
In fact, Lauren Bowen, director of franchise operations at Two Maids & A Mop, says smartphones and other tech devices may harbor more germs than a toilet seat. "Think about the number of surfaces you touch throughout the day—and then think about the times that you touch your phone, hold your phone to your face or send a text while eating."
Clean Your Cleaning Supplies
To effectively clean your home, your supplies and appliances need to also be clean—and they don't clean themselves. "Is there anything that works harder in the kitchen than the sponge? But it can also harbor bacteria, which a simple run through the dishwasher might not always fix," says Bowen. She recommends soaking the sponge in a diluted bleach solution (1/2 teaspoon of bleach in a quart of warm water) and then rinsing it thoroughly. "If you can afford to, replace the sponge often, especially if your kitchen gets heavy use." Bowen also recommends cleaning your washing machine by running a cup of vinegar through the hot cycle. "You can also leave the door and detergent areas open after a load to let the machine dry out after each use."
Leave Your Germs By the Door
To minimize the number of germs and viruses being brought into your house, Leanne Stapf, CEO of The Cleaning Authority, recommends that you leave your shoes, handbags, and backpacks at the door. "If you have little ones with shoes that lace, either spray them with disinfectant or wash them frequently because you'd be surprised where those laces have been dragged."
Stapf says you should also remember all of the places that your handbag or backpack—as well as your kids' backpacks—have been and what they may have been exposed to, especially if they've been on the ground, or the floor of your vehicle. "Frequently clean these items with a cleaner that's safe for the bag's material," she says. "Also, designate a place for bags to be left, like in a storage bench or closet by the front door, to prevent them from ending up on a table or countertop, spreading germs and viruses throughout your home."
Know What You're Working With
When you're choosing a disinfectant, Jeff Gill, founder and CEO of Germinator Mobile Sanitizing & Disinfecting recommends one that is safe, effective, and user friendly. "You should select a disinfectant that does not use harsh chemicals or fumes to minimize the risk of potential health hazards for your loved ones," he says. "Some disinfectants out there are toxic, corrosive, or can even damage surfaces, items, or the environment."
In addition, he says, you should always choose a disinfectant that is registered with the Environmental Protection Agency (EPA). "You'll want a disinfectant that kills pathogens that are of concern like MRSA, COVID-19 (or SARS-COV-2), and other microbes," Gill says. "The EPA List N contains a registry of various disinfectants recognized to kill pathogens of current concern and are approved for use on surfaces according to the label's instructions."
Abe Navas is the general manager at Emily's Maids and he is also married to a cellular biologist. "She needs sterile surfaces for her cellular cultivation projects, and she has changed the way we see contaminated surfaces and objects." For example, Navas says the best cleaning product you can have is alcohol. If you have visitors in your home, when they leave, he recommends cleaning behind them with alcohol. "Put it in a spray bottle and simply spray any 'hot' surface that could be infected and leave it be."
---
This article, 10 Tips for Effectively Cleaning Your Home During a Pandemic, was originally published on Bob Vila. Reposting on Emily's Maids' blog because the pandemic cleaning tips are insightful and amazing! That and our own, Abe, is quoted.
---
---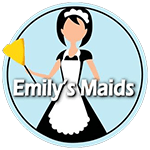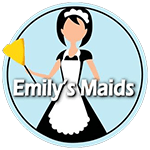 GET UPDATES
No charge. Unsubscribe anytime.