---
Our customers rely upon us to clean their ovens effectively and quickly.
So, at Emily's Maids we've developed the PAWW method (Prep, Apply,
Wait, Wipe) for tough jobs with hard to remove grime like oven cleaning.
The PAWW Method
Prep
Having the right tools for the job makes all the difference.
You'll need a) a good oven-grill cleaner, b) rubber gloves, and c)
old rags you don't mind ruining.
Spread rags on floor, covering the are underneath the oven door when
its open. This will prevent damage from drippage – an absolute must if you
have wood floors! Then put on rubber gloves to protect hands and have
the oven cleaner ready.
Apply
Place oven racks in sink. Then liberally spray oven cleaner
on racks and all interior surfaces of oven including door glass.
Wait
Let the oven cleaner soak into the caked-in-muck for a
minimum of 15 minutes. At this point, our cleaners will turn their attention
to other cleaning tasks. You may want grab a cup of joe, sit back, and
learn more cleaning tips from the cleaning pros at
www.emilysmaids.com/blog
Wipe
Use a damp rag and wipe. Allowing the cleaner to soak
loosens the grime, making muck removal super-easy with minimal muscle effort.
Voila! An easy and effective way to clean your oven with minimal
scrubbing muscle required. With especially stubborn grime, just apply
cleaner and wait another 15 minutes before wiping.
Don't have an oven cleaner or prefer a green cleaning solution?
That's ok! Use baking soda and vinegar. Add a few table spoons of water to a
½ cup of baking soda to form a paste. Apply paste to all surfaces and
let sit overnight instead of 15 minutes. Use a damp cloth to remove then
spray vinegar, wiping for final clean.
---
This piece originally appeared on porch.com in an article entitle "All about Home Cleaning: Tips from the Experts".
---
---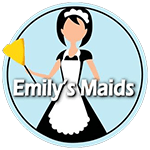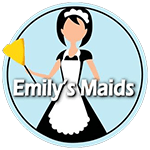 GET UPDATES
No charge. Unsubscribe anytime.